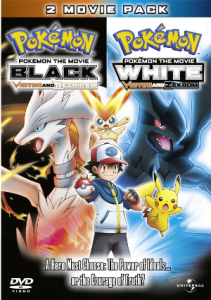 Not really a review, more of just James and I talking during the movie via the interwebz.
me: so im watching the new pokemon movie; you would think that after 12-14 years of not being able to capture pikachu, jessie, james and meowth would call it quits
also ash doesnt seem to be on a good track to being a pokemon master
using ember against a water type pokemon….noob
james: Yeah but ash always picks some random so he can learn the lesson that water put out fire
me: seems like the people of the pokemon universe don't learn quickly
james: Also shouldn't ash be in his 20s by now. I feel like he's still like 13. Probably why he doesn't learn very quickly
me: i think his voice is slightly deeper so maybe like 15
the pokemon on the cover of black and white are dragon type?
they look like birds
james: Yeah. I never got that far though. And pretty sure they looked like dragons
me: the white one looks like a bird
the black one looks like a black reptar
james: Slightly. But it's got hands on its wings
Apparently the white on is fire. It's not even red that doesn't make sense
me: white fire
super hot
so hot he's legendary
james: Ah makes sense
Cod? Or you too busy watching the poke mans
me: i can pause the pocket monsters
oh, googled this pokeman movie and apparently it's a 2movie pack and I only have 1
black and white
judging by the cover, it's 2 different stories